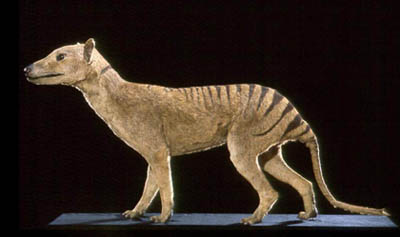 Tasmanian Wolf (Thylacine)
The Tasmanian Wolf was not a wolf nor a tiger. It was a marsupial, related to kangaroos.
The mythical Tasmanian Wolf, Thylacinus cynocephalus, is a marsupial, a pouched mammal, related to kangaroos and wombats. Its predatory habits, its overall similarity to the dog and the wolf, the stripes that earned it the name of Tasmanian Tiger, made it the most remarkable product of the evolutionary radiation of marsupials which parallels in Australia that of the placental mammals on other continents. It was by far the largest carnivorous marsupial of recent times and a striking example of convergent evolution, having evolved into a form comparable to members of the dog family because it filled the same ecological niche.
The distribution of the Tasmanian Wolf in former millennia included New Guinea, Australia and Tasmania. Its extinction is attributable solely to activities of human beings. Competition with dogs brought by aborigines eliminated it in Australia and New Guinea. These dogs ran wild, becoming the dingo, which entirely filled its niche. By the nineteenth century, when Europeans arrived in Australia the species was confined to Tasmania, where it still occupied sparsely grown woods and steppes, as well as dense rain forests. However, the Tasmanian Wolf was soon considered a threat to livestock, and bounty hunters were paid as part of a concerted, and successful, effort to eliminate the animal, conducted concurrently with destruction of its habitat. It was soon hunted to extinction.
Tasmanian Wolf Today
The last animal known alive was trapped in 1933 and died at the Hobart Zoo in 1936. Ever since, hopes have been entertained that the species persisted in some remote forest of Tasmania, but they have never materialised. The few existing specimens on display in the world collections offer thus the closest approximation we can ever have of a personal experience of the appearance of this extraordinary animal. Two of them are in Belgium, one in the Royal Belgian Institute of Natural Sciences, the other in the Zoological Museum of Liège University, both obtained in the second half of the 19th century. Even the continued existence of those most precious testimonies depends on our capability to conserve skins for more than two centuries, an untested hypothesis, since the oldest known Tasmanian Wolf natural history specimens, in France and England, date back to the end of the 18th century.