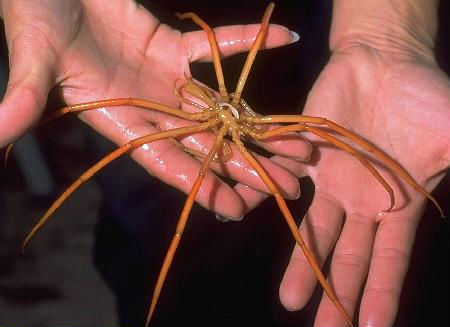 Sea Spider
Sea spiders, also called Pantopoda or pycnogonids, are marine arthropods of class Pycnogonida. Sea Spider are cosmopolitan, found especially in the Mediterranean and Caribbean Seas, as well as the Arctic and Antarctic Oceans. There are over 1300 known species of Sea Spiders, ranging in size from 1 to 10 millimetres (0.039 to 0.39 in) to over 90 cm (35 in) in some deep water species. Most are toward the smaller end of this range in relatively shallow depths, however, they can grow to be quite large in Antarctic waters.
Sea Spider description
Sea spiders have long legs in contrast to a small body size. The number of walking legs is usually eight (four pairs), but species with five and six pairs exist. Because of their small size and slender body and legs, no respiratory system is necessary for the Sea Spiders, with gases moving by diffusion. A proboscis allows them to suck nutrients from soft-bodied invertebrates, and their digestive tract has diverticula extending into the Sea Spider's legs. Pycnogonids are so small that each of their tiny muscles consists of only one single cell, surrounded by connective tissue. The anterior region consists of the proboscis, which has fairly limited dorsoventral and lateral movement, and three to four appendages including the ovigers, which are used in caring for young and cleaning as well as courtship. In some species, the chelifores, palps and ovigers can be reduced or missing in adults. In those species that lack chelifores and palps, the proboscis is well developed and more mobile and flexible, often equipped with numerous sensory bristles and strong rasping ridges around the mouth. The last segment of the Sea Spider includes the anus and tubercle, which projects dorsally.